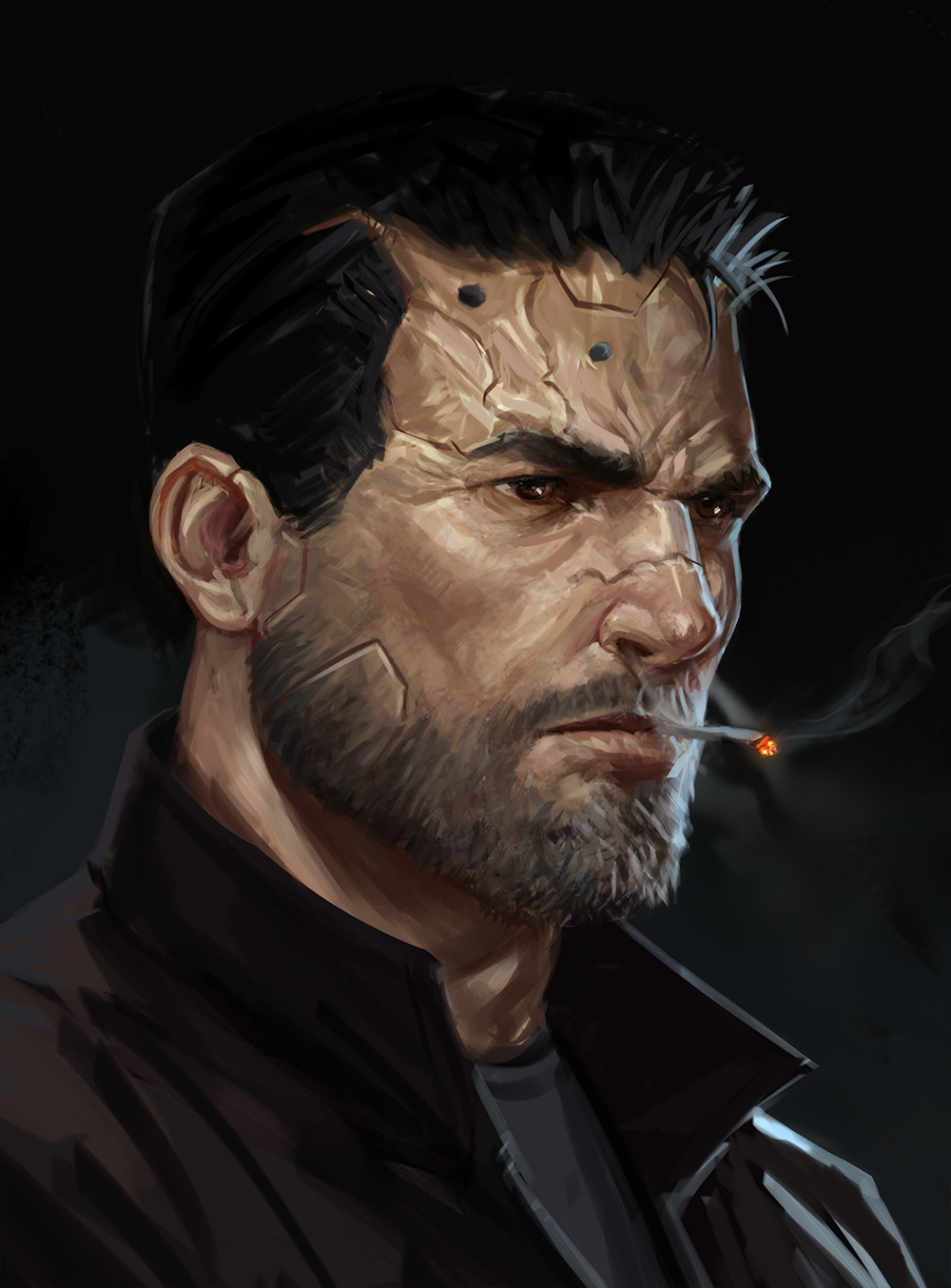 ROGUE
by DarkJade
EPISODE I – ACCEPTED
THE YEAR 2152 – EARTH
70 YEARS AFTER 'DARK SKIES'
A MEDICAL EXCHANGE IN THE BLUE ZONE DISTRICT
"You really should see a Cyber Specialist Rogue…" speaks a dark haired, 40 something year old female, in a medical coat.
Sitting in a Cyber Adjustment chair is Detective CHESTER ROGUE, a black with silver tips haired, fairly rugged looking, yet somewhat handsome man in his early 50's.
"Yeah… Well… If I do, they'll just reignite the arms' militant aspects… No thanks," Rogue replies, as he looks down at his Cybernetic right arm, its' electronics open.
She approaches the arm with an instrument, "Still…" she makes some adjustments, which cause his fingers to move.
She closes it up, "There yah go."
He bends his arm, which appears to be functioning fine.
"Thanks Doc…"
OUTSIDE IN THE STREET, NEAR THE DOCTOR'S OFFICE
Rogue lights a cigarette, and clicks a switch on his key chain, causing the sleek black vehicle before him's driver side door to open…
He gets in…
"Up…" the ship rises some 100 feet into the air, then propels forward, entering a metropolis sky full of other types of flying vehicles…
…From product, to people transport, to high end cruisers, to ships similar to his own in general design.
"I should go home… There's no reason for me to be out here tonight…" he thinks to himself, as his ship swoops through the sky, avoiding all other craft.
It was a dark night…
Even for the Blue Zone District.
Lights in the city seamed as seldom stars…
As Rogue's ship went low, the BOULEVARD was quiet.
…and it was late.
"Better than being home with my cat…"
Rogue's eyes swept the streets, as if looking for something… Or… Someone.
"It's better this way. We both need space. Autonomy."
Suddenly three girls appear on the street, one looks dressed unbelievably, she has red brown hair to her shoulders, light makeup on her beautiful face… She looks to be like 26ish.
The other two are younger, but not nearly the scale of… Anything the first girl is.
The other two girls look scared, but trying to draw attention from drivers by.
" ROSE SCARLETT," he says under his breath.
He knows her.
The girls see Rogues vehicle approach, and Rose waves the other two girls off, "I got this."
Rogue pulls up along side the curve, and lowers his dark passenger window.
She leans over to peer in his dark cockpit, "Hi Rogue…"
He puts his cigarette out, raises the window, and drives away.
ART by Salvador Trakal